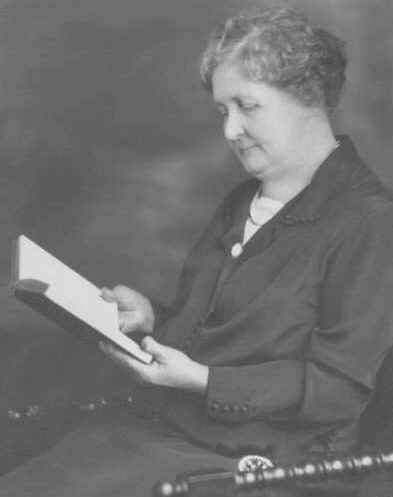 Above: My great grandmother (my father's maternal grandmother), demonstrates that books have long been an important part of my family.
A writer once complained about modern people's inability to separate the sublime and the profane, and this list mixes up the two rather well. On this page, I present a varied list – well, a slew – of books I've read in recent years, many of them recommended.
Copyright © 20109 John Zipperer
"The truth doesn't change according to our ability to stomach it."
—Flannery O'Connor
"There is nothing worse than aggressive stupidity."
–Johann Wolfgang von Goethe
"The content of your mind — your values and ideas — are nobody's
business but your own."
—Kerry O'Quinn
"From what source can we derive those standards of right and wrong strong enough to challenge, if need be, the very system we have been brought up to accept as right, and to counter the deep normative power of the given? Where to find the courage to defend these values 'unflinchingly,' even to the death, if we know all along that they are only relative? And how to impart not just the values but also the courage to our children?"
—Timothy Garton Ash
The File
"So learn from this / and understand true values. I who tell you / have wintered into wisdom."
—Hrothgar, Beowulf (Seamus Heaney, translator)
"I recognize nothing in this world as constantly immutable, nor any theory as absolutely correct. All ideological theory is relative, for within its existing context it contains elements of relative truth and, conversely, elements of relative absurdity. At one given time and in one given situation it may be a relatively accurate theory, whereas at another given time and situation it can be relatively preposterous."
—Wei Jingsheng, from his defense statement before a Beijing court, October 16, 1979, on trial for prodemocracy activities; quoted in The Courage to Stand Alone: Letters from Prison and Other Writings
"Enlightenment brought him the burden of morality, which in turn could only be borne by enlightenment."
—Ray Huang on Hai Jui in 1587: A Year of No Significance
"The spirit of our American radicalism is destructive and aimless: it is not loving, it has no ulterior and divine ends; but is destructive only out of hatred and selfishness. On the other side, the conservative party, composed of the most moderate, able, and cultivated part of the population, is timid, and merely defensive of property. It vindicates no right, it aspires to no real good, it brands no crime, it proposes no generous policy, it does not build, nor write, nor cherish the arts, nor foster religion, nor establish schools, nor encourage science, nor emancipate the slave, nor befriend the poor, or the Indian or the immigrant. From neither party, when in power, has the world any benefit to expect in science, art, or humanity, at all commensurate with the resources of the nation." —Emerson, "Politics"
"Moribus antiquis res stat Romana virisque" — "By its ancient way of life and its men the Roman state stands firm" —Publius Ovidius Naso
"Do all the good you can,/By all the means you can,/In all the ways you can,/ In all the places you can,/ At all the times you can,/ To all the people you can/ As long as ever . . . you can!"
—John Wesley
"Be kind, for everyone you meet is fighting a hard battle."
—Plato